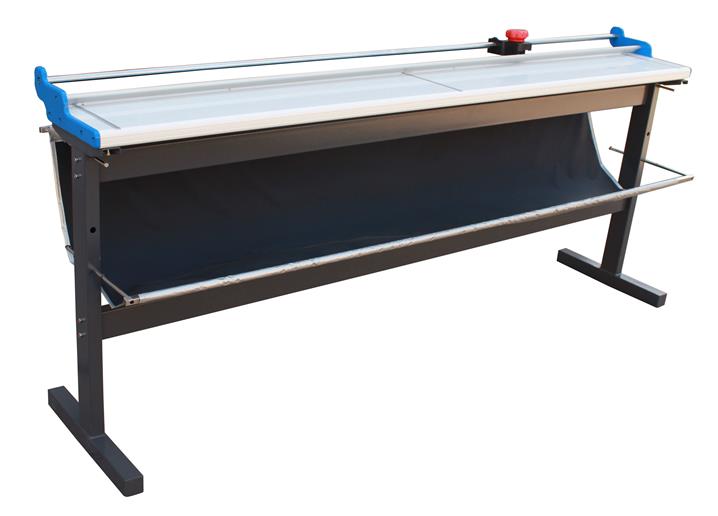 Manual trimmer
Description
This series is ideal for trimming single sheet drawings, posters, photographs and lamination. Available in a table-top model or with stand and waste catcher.
Available in: 100cm, 130cm, 160cm, 200cm, 250cm cutting widths.
Key Features:
◎ Aluminum feeding table and side frame
◎ Heavy duty trimmer up to 1.5mm thickness *
◎ Self-sharpening HSS cutting wheel
◎ Hardened inox fixed blade
◎ Transparent clamp strip holds material firmly
◎ Top-mounted swivel handle ensures operator comfort
◎ Cutting head can be raised or lowered from any position on the bar
◎ Clean cut on a wide variety of materials.
◎ Optional stand and convenient waste catcher.
Technical specifications:
Model
MT-100
MT-130
MT-160
MT-200
MT-250
Max cutting thickness *
1.5 mm
1.5 mm
1.5 mm
1.5 mm
1.5 mm
Max cutting length
1000mm
1300mm
1600mm
2000mm
2500mm
Length
1235mm
1535mm
1835mm
2235mm
2735mm
Width
378mm
378mm
378mm
378mm
378mm
Height
120mm
120mm
120mm
120mm
120mm
Weight
20kg
24kg
28kg
32kg
36kg
Machine stand and waste catcher
Optional
Graphic roll bracket
Optional
* Subject to the material to be cut